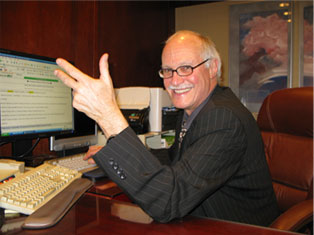 Warner Center Law Offices's attorney, Donald F. Conviser, is a knowledgeable, aggressive, professional Los Angeles Family Law Attorney offering Unbundled Legal Services and Premarital Agreement Services to his clients. He is a creative and tenacious problem solver who offers his clients a powerful, efficient and successful approach to family law and divorce.
Looking for an effective divorce attorney who is accessible and communicates with his clients? Donald F. Conviser works one-on-one with our clients to facilitate their understanding and encourages their active participation in their cases.
"Your communication skills, tenacity, ingenious tactics, and ability to effectively deal with my stubborn and uncooperative adversary were amazing. With our personal meetings and your correspondence, I felt that I was always kept "up to the minute" on where I stood on the various issues." - JWI
"Donald stays in constant contact with me via e-mail and telephone, informing me of developments, requesting updates from me, and advising me of my options and his recommendations." - RAR
Do you have questions about any aspect of family law, whether unbundled consultation, limited scope representation, full service representation, child custody visitation, child support, spousal support, property division, debt allocation, prenuptial agreements, paternity, or nonmarital dissolution? Contact the Warner Center Law Offices of Donald F. Conviser in Woodland Hills, California, by phone or e-mail to learn how we can help you.
For more information about Warner Center Law Offices' attorney, Donald F. Conviser, follow the link below.
Offering a Powerful, Efficient, Successful Approach to Divorce. E-mail us or Call 818.880.8990 or 888.616.0659 | Free telephone consultation.