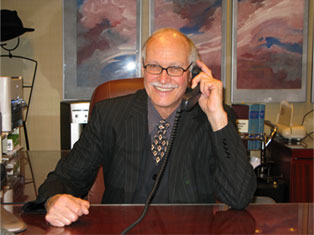 We provide Unbundled Legal Consultation Services and we prepare and negotiate Premarital Agreements at the Warner Center Law Offices of Donald F. Conviser, to empower men and women facing divorce, marriage or other family law issues to master their situation instead of becoming a victim of circumstance. Our unique approach has helped hundreds of people reach their objectives. Mr. Conviser is a Los Angeles and Ventura County Family Law and Divorce Lawyer with over 40 years of experience.
Mr. Conviser has provided valuable assistance to many people preparing and negotiating Prenuptial Agreements, and as an Unbundled Legal Services Divorce and Family Law Attorney in Los Angeles and Ventura cases. We prepare Premarital Agreements for people who would have something to lose in a divorce, and we negotiate more favorable terms for the person receiving a proposed Premarital Agreement. We offer "Unbundled Legal Services", comprising consultation, expert advice, document preparation, and other assistance to people who choose to represent themselves in their cases. If you need, or are served with an RFO (Request for Order, for such things as Child Custody, Child Support, Spousal Support, or other relief), a Domestic Violence application, discovery (i.e., Interrogatories, Demand to Produce, Deposition Notice, etc.), if you need to perform discovery to obtain evidence for your case, or if you need to prepare for Trial in your case, we can assist you in strategizing, conceptualizing, drafting and filing and serving documents and responses, obtaining evidence, evaluating witnesses, and preparing testimony and cross-examination. Among other things, we can teach you how to authenticate and lay a foundation for admission of documents and evidence, what evidence is admissible and what evidence is not, and how best to make evidence admissible.
Limited Scope Family Law and Divorce Lawyer | Los Angeles | Ventura
We now limit our practice to Unbundled Divorce and Family Law Consultation Services and Premarital Agreement preparation and negotiation. If you need or desire a Limited Scope Attorney, we can refer you to Limited Scope Attorneys to provide you Legal Representation in specific areas that you are unable to effectively handle by yourself, while you manage your litigation budget by personally handling the remaining areas of the case for which you didn't want or need or could not afford legal representation.
Full Service Divorce and Family Law Attorney | Ventura | Los Angeles
If you need or desire a Full Service Attorney, we can refer you to Full Service Attorneys to handle all aspects of your case and relieve you of the responsibility of representing yourself.
Offering a Powerful, Efficient, Successful Approach to Divorce
E-mail Us or Call 818.880.8990 or 888.616.0659 | Free Telephone Consultation
If you are facing divorce, you need to learn how to master the divorce process. We counsel our clients to conceptualize divorce or family law as a goal with a set of rules to learn. We will work with you to identify and define your goals, teach you the rules and employ our innovative techniques to help you master the process and obtain your objective.
Warner Center Law Offices' divorce and family law attorney, Donald F. Conviser, offers our clients support and counseling to help them master their situation. He teaches them how to be most effective in their cases.
Donald F. Conviser offers comprehensive legal counseling, providing our clients with reliable information and knowledgeable advice about the laws and rules involved in their cases and matters.
We empower our clients to be the masters instead of the victims of the divorce or other family law situation in which they find themselves, including the need for a Prenuptial Agreement or the need to negotiate better terms in a Prenuptial Agreement. We teach our clients how to master their situation.
We will answer your Divorce, Premarital Agreement, and Family Law Questions
Do you have questions or concerns about dissolution of marriage (divorce), legal separation, paternity, nonmarital dissolution, child custody, visitation, child support, spousal support, adoption, Prenuptial Agreements, property division or any other aspect of family law? We will answer your Divorce and Family Law questions.
Warner Center Law Offices' Attorney, Donald F. Conviser, is experienced in all aspects of family law. He has practiced family law in California for over 40 years.
"Don should be in the NFL hall of fame. He is the best defensive coordinator. He views the opposition and what the rulings will be and then gets you ready. He has already predicted the play and you are there to intercept and run it back for a touchdown." - SNP
"Donald Conviser has been an advocate with gladiator strength for me in the Los Angeles Superior Court. He works with fantastic vigor and stamina 24/7 and has an amazing depth and knowledge of his subject material. The presiding judge in my case repeatedly made references to the outstanding legal performance and counsel provided by Mr. Conviser." - MLG
Contemplating Divorce? Unhappy with your current lawyer? Need or received a Prenuptial Agreement from your fiance's lawyer? Call 818.880.8990 or 888.616.0659 or e-mail the Warner Center Law Offices of Donald F. Conviser today for a free telephone consultation or to set an appointment.