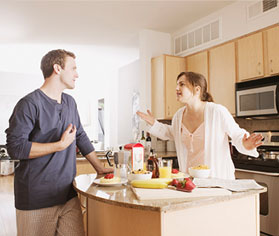 Nonmarital Dissolution Lawyer | California | Woodland Hills | Los Angeles | Ventura
In California, both marriages and domestic partnerships are regulated by the family code. Unmarried, cohabiting partners do not have the same legal rights as married couples and domestic partners. However, there is legal precedent in California for an unmarried individual to be awarded property and financial support from his or her former partner after their relationship ends. This kind of support is often referred to as "palimony". If your nonmarital relationship ended and property was accumulated during the relationship, or if you need Palimony or get served with a property and Palimony lawsuit, come to our Woodland Hills office for Mr. Conviser's legal advice and unbundled legal services.
Nonmarital Dissolution | Unbundled Legal Services | Los Angeles | Ventura
If you are representing yourself, and your case has property or Palimony issues that need to be resolved in a Los Angeles or Ventura County case, we can provide you Unbundled Legal Services to assist you in strategizing and conceptualizing your case, performing discovery, obtaining evidence and witnesses to support your case, and preparing you and your witnesses for trial or settlement.
If you represent yourself, and your case has property or Palimony issues that need to be resolved in a Ventura or Los Angeles County case, if you realize that you are inadequately equipped to deal with those issues, we can provide you referrals to Limited Scope Representation, to perform discovery and endeavor to negotiate a resolution of the property and/or palimony issues without trial - but if that is not possible, obtain evidence and witnesses, prepare documents for Mandatory Settlement Conference and Trial, prepare you and your witnesses for Trial, and appear at Trial on your behalf to present and argue your case.
If your case has property or Palimony issues that need to be resolved in a Los Angeles or Ventura case, we can provide you referrals to representation on a Full-Service basis, who will handle all aspects of your case from start to finish.
Do you have questions or concerns about nonmarital dissolution? Are you seeking property or support? Do you need to oppose property claims or support claims? Contact the Warner Center Law Offices of Donald F. Conviser in Woodland Hills. Talk to an experienced family law attorney who can give you the information and answers you need.
Experienced, Aggressive, Professional
E-mail Us or Call 818-880-8990 | Free telephone Consultation
The best known non-marital property and palimony case in California is Marvin vs. Marvin.
Marvin vs. Marvin involved the actor Lee Marvin and his longtime companion, Michelle Triola. After living together for many years, she sued for property rights and support rights when the relationship ended. The court ruled in Lee Marvin's favor, but the decision was overturned by the California Supreme Court, citing not family law but contract law.
Today, so-called Marvin actions or Marvin claims can be a viable option for individuals seeking property or support rights in the wake of an unsuccessful live-in relationship. Also, where unmarried couples purchase property together and later disagree on breakup about division of that property, they can seek relief in Court. We refer to both types of cases as nonmarital dissolution cases.
There are no statutory laws specifically addressing the property rights of nonmarital partners. So it is essential for anyone hoping to obtain his or her fair share of jointly owned or acquired property from a nonmarital cohabitation relationship to get legal help from an attorney skilled in both family and contract law.
Palimony Rights
If you are ending a nonmarital relationship and are involved in a controversy about who is going to get what, whether you are the one seeking property or palimony or the one fighting a property or palimony action, or if you co-own property with a former boyfriend or girlfriend and want to get your share or want to oppose your former boyfriend's or girlfriend's property claims, call or e-mail Warner Center Law Offices' Family Law attorney, Donald F. Conviser, today.
Our attorney, at Warner Center Law Offices, has more than 40 years of experience in all aspects of family law and nonmarital dissolutions and welcomes clients throughout Los Angeles and Ventura counties.
Offering a Powerful, Efficient, Successful Approach to Nonmarital Dissolution. E-mail us or Call 818.880.8990 or 888.616.0659 | Free telephone consultation.